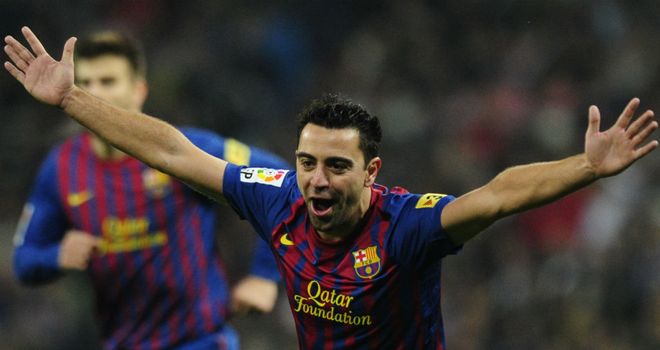 Barcelona midfielder Xavi believes that his side were too strong for Read Madrid at the Berbabeu last night.
Xavi, who has been with the Catalonian side since the age of 11, scored one of three goals that insured Barca took all three points to bring them level with Real Madrid at the summit of the La Liga table.
Real Madrid took the lead 23 seconds into the game when Karim Benzema tapped in from close range, but three goals by Alexis Sanchez, Xavi and Cesc Fabregas sealed the victory on what was a dramatic evening in Madrid.
A much needed result for the reigning champions who have only taken 3 wins from seven away games this season, and Xavi believes that Madrid were no match for the visitors.
"We were very superior to Real Madrid today."
"
"We wanted to be brave here. We know that you cannot win otherwise and the team played a great match in every department. We are far superior to Real Madrid."
The 31 year old also praised keeper Victor Valdes, who gifted the Spanish league leaders a goal when a misplaced pass to Daniel Alves fell to the feet of Karim Benzema who pounced in from close range.
"Victor Valdes has been very brave in spite of the initial error and was able to recover and play very well."
"I am very happy about everything, for the victory, and the most important thing is that collectively we played a great game and we were very superior."
However his boss Pep Guardiola quickly brought his side back down to earth, and reiterated that Madrid are still favourites to take the crown despite yet another El Classico defeat to Barcelona.
"I am delighted with the performance [but] Madrid will recover.
"To win here, you have to play a very good game and we have done that. But there is still much to do and Madrid will again be the leaders if they beat Sevilla."
"There are no champions in December."
Real Madrid missed a hatful of glorious chances, including an unmarked Ronaldo header that could have given Real a much needed equaliser.
After the game, Jose Mourinho expressed the significance of Ronaldo's glaring miss from 10 yards out.
"When it was 1-0 we could have easily gone 2-0 up and maybe under normal circumstances, Cristiano [Ronaldo] put it wide."
There was a dramatic end to the first half when Lionel Messi, who had been booked earlier on in the game for dissent, tripped Alonso. The referee looked to pull out the red card that would of saw the Argentine sent off, before quickly pulling away from his pocket when seeing the guilty face of Messi.
With the game evenly balanced, Mourinho believes that the referee could have been more lenient towards his side and sent off the Barca talisman.
"I thought Messi could have been sent off, but until I see it again I won't say more in case I'm wrong."