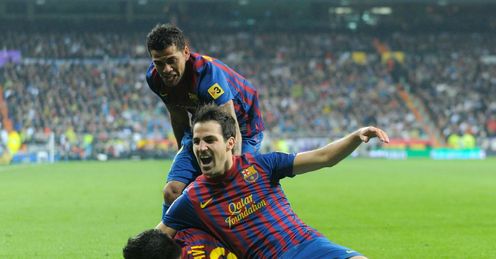 A rampant second half display by reigning La Liga champions Barcelona beat league leaders Real Madrid 3-1 on an entertaining evening at the Bernabeu.
Three goals by Sanchez, Xavi and Fabregas was more than enough to end Real Madrid's 10 league victory streak, and cut the deficit down to equal terms at the top of the La Liga table.
A close range goal by Benzema was cancelled out by a Sanchez strike close to half time. With a deflected strike by Xavi straight after half time, a diving header by Cesc Fabregas sealed the Catalonian's third away victory in seven games.
Real Madrid got off to the perfect start, after Barca keeper Victor Valde's attempted pass to Eric Abidal fell to the feet of Di Maria whose shot was blocked, falling perfectly to Ozil whose volley was deflected into the path of Karim Benzema who poked home from close range.
Ronaldo then squandered the chance to put the league leader further ahead when a Benzema run down the left wing was squared to the Madrid talisman who selfishly shot wide instead of setting up Di Maria who was clear on goal.
Lionel Messi started to make his way into the game and a great run down the right flank forced a great save by stopper Iker Casillas. Barca looked the more likely to force the equaliser.
With the game closing in on half time, Barcelona got their reward. Lionel Messi capatalised on a Sergio Ramos slip, gliding the ball past two Madrid tackles and slotting a through ball to Sanchez who placed the ball past Casillas to give the Chilean his 5th goal of the season.
Shortly after the equaliser, Messi was punished with a yellow card after arguing with the referee over a Pepe foul on Sanchez. With the first half closing in, the Argentine could have easily been sent for an early shower, after a late challenge on Xabi Alonso caused the referee to reach for his pocket, before then pulling away from what looked like an imminent sending off.
The Bernabeu was then stunned, after a long range Xavi strike was deflected by Marchelo, leaving Iker Casillas wrong footed and scrabbling to crawl away the ball which inevitably rolled into the net.
With Barca leading at the Bernabeu, Cristiano Ronaldo was presented with a glorious opportunity to tie the match when an Alonso cross was headed wide by Madrid's top goal scorer.
A sucker punch goal ruled out any hint of comeback, when a deep cross by Daniel Alves was met at the back stick by Fabregas who dived in to head in his 8th goal of the season, putting clear daylight between the two clubs.
Mourinho put on Gonzalo Higuain to boost Real's attacking options and a Sergio Ramos cross evaded the stretching foot of the Argentian striker, preventing him from bringing Madrid back in the game.
With 90 minutes fast approaching, Barcelona kept a stern back lie as well as attacking with presence to earn themselves their first El Classico win of the season.